With 10 years in international card issuing, Card Service Provider UK Limited (CSP) has been helping its users to an easier and more convenient financial management.
CSP knows the SME's needs and concerns focusing on their business.
Considering the brand, the fee structure, the industry, the agreement, and following the international rules, CSP will introduce you to the best suited integration support.
In terms of online payment, deposit, and withdrawal, CSP is committed to provide you the service that will contribute to your company's best profit.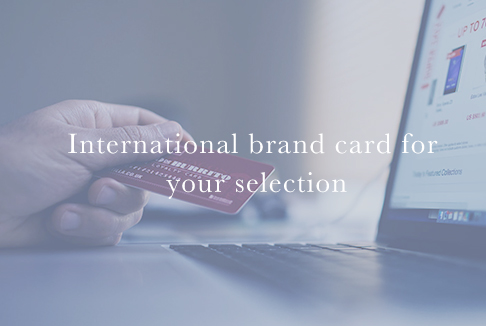 CSP offers the international card in multi-currencies which can be used all over the world where Mastercard, Visa and CUP are accepted.
The cards can either be personalized or anonymous.
Unlike credit cards, there is no credit history review so anyone can have a card.
For your company's solution, you can have your own original design card. This card can greatly contribute to your company's branding and marketing.
For more inquiries, feel free to contact us
Card Service Provider UK Limited is a service institution that corresponds to various businesses' needs.
For more information about our products and services, please contact our support team
[By E-mail] support@cardserviceprovider.com
Company name

Card Service Provider UK Limited

Address

Chase Business Centre, 39-41 Chase Side, London, N14 5BP

E-Mail

info@cardserviceprovider.com

CSP offers an integrated, e-commerce platform that enables companies to trade in multiple currencies online. This platform is designed for either corporate or individual clients, and can be easily integrated into your existing digital properties and systems.
The back-end of this i-use platform has been designed to be intuitive, with a focus on usability, making it as easy as possible for our clients to access and manage their accounts. This system also comes complete with a comprehensive range of tools to assist in the day-to-day operation, analysis and reporting of your account activity.
To further complement the existing solutions and services of the i-use brand we are launching a card solution. We have done so to provide our customers with an additional, instant payment or pay out solution, to better streamline payments to suppliers and clients.

i-use: Integrated Use Account
i-use account is an electronic international account consisting of a savings account and card, offering a simple means by which individual and corporate clients and transfer money internationally. Our purpose as an e-commerce solution provider is to provide our clients with the best all-round payment services available and at a lower cost.
We presently offer two account types; Personal and Corporate. For information on these and to find out which would be best suited to your needs please read on.

Personal i-use account
Our personal account is designed to give you a premium service that is charged at a much lower fee than you would pay for the same services from other financial institutions. It allows you to make payments internationally, in local currencies, without going through the formalities of doing so locally, saving you time and money when making international payments.

Corporate i-use account
Our corporate account has all the same functionality as an personal account with the addition of batch remittance and remittance to multi-accounts. We also offer fee reductions with this account and enhanced customer support that is tailored to better meet the needs of our corporate customers, designed to allow the user-friendly function for day-to-day operation.
i-use Account Features
Flexible and Competitive Transaction Fees
Our fees are very competitive, compared to the existing banks and similar companies, making i-use account the ideal choice for remittance

Multi-currencies with low monthly maintenance costs
10 currencies with the low maintenance fee of just USD 5 per month

High-limit International remittance with Lower Commissions
Benefit from our higher daily ceiling for international remittance, allowing larger amounts to be sent within a single commission charge

Enhanced Functionality for Corporate Customers
Enterprise accounts have access to wider functionality, including batch remittance and remittance to multi-accounts as i-use concept.

Access your i-use account 24/7
Through our online account management solutions you can perform transactions with your i-use account whenever, or wherever you are in the world as international and instant use.

Card Functionality with Our Visa Card
We offer cards as an additional means of payment, whether using the card as an individual, or using it to make instant payments/payouts to your customers, staff or suppliers. Cards can be customised to suit your needs with co-branded overprinting


Corporate principles

Card Service Provider UK Limited provides consulting support through general settlement service for various business people to concentrate on their core business in any industry or products. We also contribute refreshment and development of internet society through providing of settlement infrastructure.

Background
In recent years, any people can get any products that they want without circumstances by online shopping or using of internet auction at home because of the rapid spread of the internet. However, some online shops where the credit settlement system or settlement system are not installed yet, are distinguished because there are existence of many number of industries or products that don' t pass screening with the settlement system.

Under these circumstances, we can provide settlement service by making use of foreign bases. That pass screenings by providing of foreign settlement system to business people and make it possible for them to catch the new business chances by installing of settlement system. Card Service Provider UK Limited remove difficulties for various entrepreneurs with any industry or products and provide foreign settlement system to them because we consider construct infrastructure settlement for many people to use online transaction comfortably.


Privacy policy

Card Service Provider UK Limited is aware of importance of personal information and executes the following management.

We stipulate the regulation of managing the customer's personal information (hereinafter called 'Personal Information'), maintain institutional structure and endeavor to protect personal information in an appropriate way.

We will inform you the purpose of collecting personal information and our office and collect personal information in the necessary range if we collect personal information from customers.

We will use customer's personal information in the range of collection purpose, managing in an appropriate way and we will not disclose or provide our customer's personal information without their consent unless there are remarkable matters.


Customer's personal information will be kept accurate and up-to-date condition and will take action for prevention of illegal access to personal information, loss, destruction, manipulation and leakage.

We oblige by the contract not to conduct leakage or reproviding and we will execute appropriate management of personal information if we delegate the process of personal information to outside.

The personal information that is received from consignor will be managed rigidly and used in the contractual range.

We will correspond in a lawful range right away by contacting our office if the customer wishes to confirmation or correction of customer's personal information.

We will observe the applicable law or standards on personal information held by us and we will maintain and improve effort for each above-mentioned and protective activity.

※Please contact info@cardserviceprovider.com for inquiries concerning privacy policy.